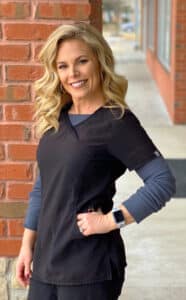 Dr. Michelle Slagle
Dr. Michelle Slagle was raised in Macomb Michigan. She graduated from Life University, Marietta, GA in 2003 with a Doctorate in Chiropractic. Dr. Michelle was associated with another chiropractor for six years before starting her practice, Slagle Family Chiropractic in her home town of Macomb in 2009. She is board-certified nationally and in Michigan. She is a member of MAC (Michigan Association of Chiropractors) and the ICPA (International Chiropractic Pediatric Association).
Dr. Michelle Slagle developed an interest in natural approaches to health care after working as a nanny for a chiropractor. It was through chiropractic she was able to find relief from her long standing battle with TMJ. After chiropractic care, her mother's carpal tunnel surgery was canceled. It was at that point she decided she wanted to help people reach their maximum health potential without the use of drugs or surgery.
Dr. "Michelle" as her patients call her, is always determined, positive and enthusiastic in her approach. She uses a "whole person approach" when taking care of her patients. By combining the very best hands-on-technique, state of the art physiotherapy procedures and providing the newest and best natural vitamins, mineral supplements and cleansing products on the market today. Dr. Michelle is able to help one to accelerate and/or maintain their journey to good health.
During her years in practice, Dr. Michelle has taken care of patients ranging from newborn to patients that are 90+ years old. She utilizes many adjusting techniques including Diversified, Thompson, Gonstead, Extremity adjusting, Toggle Recoil, Activator, and many others to fit the personalized needs of her patients. She is board-certified nationally and in Michigan. She is a member of the MAC (Michigan Association of Chiropractors) and the ICPA (International Chiropractic Pediatric Association).
Dr. Michelle constantly strives to improve and update her knowledge in the field of chiropractic. She has completed extensive post-graduate study emphasizing the treatment and rehabilitation of whiplash injuries, headaches, neck pain, back pain, pregnancy, and pediatric chiropractic.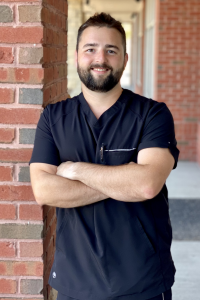 Dr. Jeffrey Slagle
Dr. Jeffrey Slagle was born in Macomb, Michigan but raised in Monterey, Tennessee. He attended Tennessee Technological University for his undergraduate education, and graduated from Life University in Marietta, GA in 2019 with a Doctorate in Chiropractic. Dr. Jeff is board-certified in all 50 states. He is also a member of the MAC (Michigan Association of Chiropractors).
Dr. Jeff had made the decision to become a Chiropractor at the age of 9 while visiting his sister Dr. Michelle at Chiropractic school. He has always been fascinated by the spine and the intricate makeup of the body. Dr. Jeff has not only been interested in spinal care, but he also greatly benefitted from chiropractic care himself after working long hours in restaurants while attending college.
Patient care is the utmost importance for Dr. Jeff. Dr. Jeff's training has given him experience with a wide range of patients and care situations. He strives to offer the best chiropractic service for all ages and stages of life.
In his free time Dr. Jeff loves spending time with family, friends, and his two dogs Lexi and Ringo. He also loves playing video games, golfing, and mixed media arts mainly focusing on metals and clay.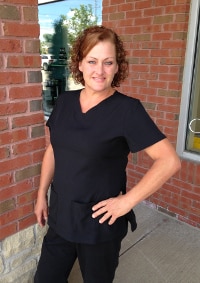 Kelly Kristoff
Kelly Kristoff received her diploma for Massage Therapy from Baker College in 2006.She specializes in many styles of massage therapy including therapeutic, relaxation, deep tissue, pregnancy and sport.
Before working at Slagle Family Wellness Center, Kelly worked at a Physical Therapy Clinic, where she worked closes with patients healing from sports and auto injuries, and surgical rehab. Kelly utilizes her education and years of experience to provide her patients with the best quality massage that can be found in the Macomb Area.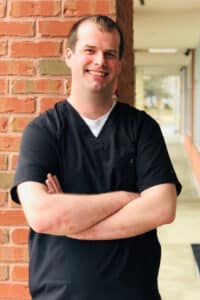 Duncan
Duncan attended the Stasio Institute of Therapeutic Massage in 2011. After matriculating he worked primarily in chiropractic settings performing therapeutic massage, though he has gathered a wealth of spa experience throughout his years as well.
Duncan had planned on being a college professor of communications/media studies prior to entering massage school, but grew tired of academia toward the second half of his master's program and elected to leave rather than finish a degree he had no intention of using. A friend offered to put him through massage school at no cost while he figured out what he wanted to do with my life; it turned out that massage fit his demeanor and was enjoyable, so here he is many years later still a massage therapist.
Outside of work he tries to stay active, intellectually engaged, and entertained.
Stephanie Ries
Stephanie is the Office Manager here at Slagle Family Wellness Center. She is a graduate of Oakland University, 2008. She has a passion for patient care, and is here to ensure satisfaction within patient treatment. Helping patients with their scheduling needs, insurance verification, payment options, and treatment management is her expertise. She is here to help!
From our doctors to our front desk, we are all here to help!